Campus Map
Virtually everything you could ever want is here.
The next-best thing to visiting our stylish senior living community in person is to click around and explore the features of our campus here, online.
We like to make everything convenient for you here. This interactive tool is just the beginning.
Ready to Schedule a Tour? Have a moment to explore our Photo Gallery and Testimonials? Click here to contact us now or call 877-277-9908.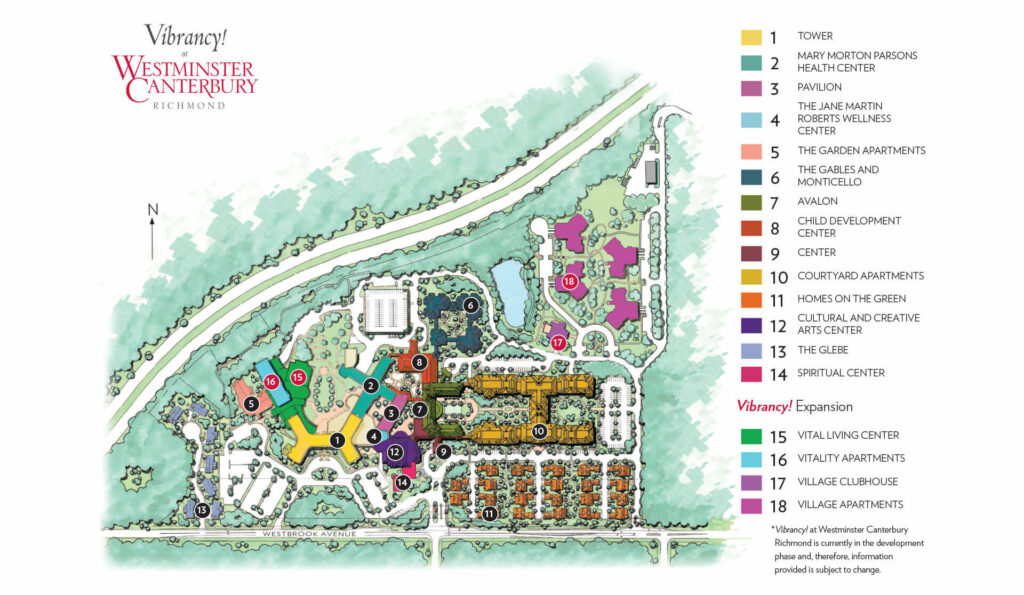 The Tower offers 15 appealing floor plans, from cozy studios to one- and two-bedroom residences with dining rooms and well-equipped kitchens. All have large windows, plush carpet and ample closet space, with community amenities a short, enclosed walk away.
Featuring:
One or two full baths; walk-in shower or tub with ceramic tile surround
Floor plans with dressing rooms and walk-in closets
Wood flooring in some apartments
Crown moulding throughout
Wire shelving in closets
Floor plans with washers and dryers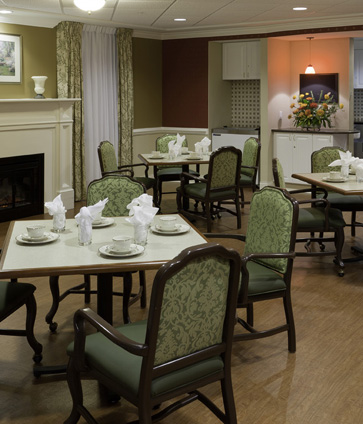 The Mary Morton Parsons Health Center at Westminster Canterbury Richmond focuses on each individual resident's physical, mental and spiritual well being. Residents receive short- and long-term nursing care and rehabilitation from a devoted staff. Our friendly, attentive care encourages each resident's full potential—and does everything possible to help the resident achieve it.
Team philosophy integrates physical, speech and occupational therapies
24/7 access to RNs, LPNs, certified nursing assistants
Physician medical director
Record low turnover means staff have a comforting familiarity
Indoor pool and whirlpool plus outdoor gardens and courtyards for recreation
Access to Cultural and Creative Arts Center programs
For assisted-living residents who need a moderate level of help daily, Westminster Canterbury Richmond has the ideal living spaces in the Pavilion. In these studio apartments, residents can live as independently as their abilities allow under the patient and attentive care of our skilled staff. Kinds of help include dressing and bathing, basic incontinence care, and taking medications on schedule. Pavilion residents retain the freedom to enjoy their favorite activities, while they and their families remain secure in the knowledge that their care needs are being both well and expertly met.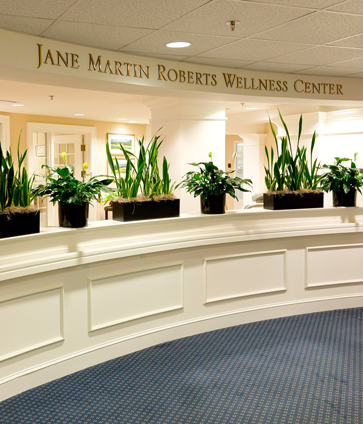 Make an appointment at our Health Clinic to receive routine medical services on-site. We have nurses available, even on holidays and weekends. Some of the most respected physicians in the Richmond, VA area come here to provide senior care. Specialists also visit regularly, including podiatrists, ophthalmologists and audiologists.
With parking just outside, the Garden Apartments offer the feel of seclusion with close proximity to all our community has to offer. Each of 10 floor plans features ceilings nine feet or higher, arched windows, and a balcony or terrace—some, even a second balcony or den or crafts-room space.
Featuring:
Spacious, well-appointed kitchens
One or two full baths, with ceramic tile
Wood floor in den, dining and living rooms
Crown moulding throughout
Wood shelving in closets
All amenities an indoor walk away
These residences are for individuals with mild to moderate memory loss who may require some assistance with activities of daily living including medication management, bathing, dressing and laundry. Residents here receive innovative care that enhances their memories as well as their lives.  Residences are clustered in households designed to provide easy monitoring and promote interaction without sacrificing comfort and privacy.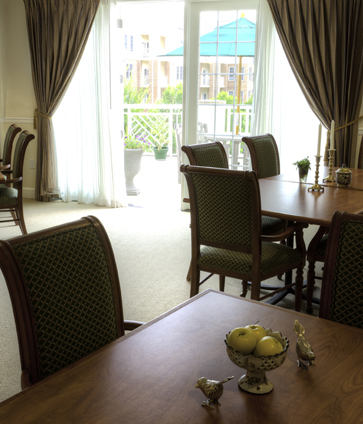 Avalon apartments are ideal living spaces for residents who need minimal assistance. For an individual resident, the floor plan features a living-dining room, bedroom, kitchenette and bathroom. On Avalon's couples floor, 15 two-bedroom, two-bath apartments enable couples to share life together while the dependent spouse receives assisted living help. Avalon residences have bay windows and crown molding, plus other distinctive appointments. Each Avalon floor has a central dining room, a resort-like spa, and comfortably furnished rooms for socializing with friends and family.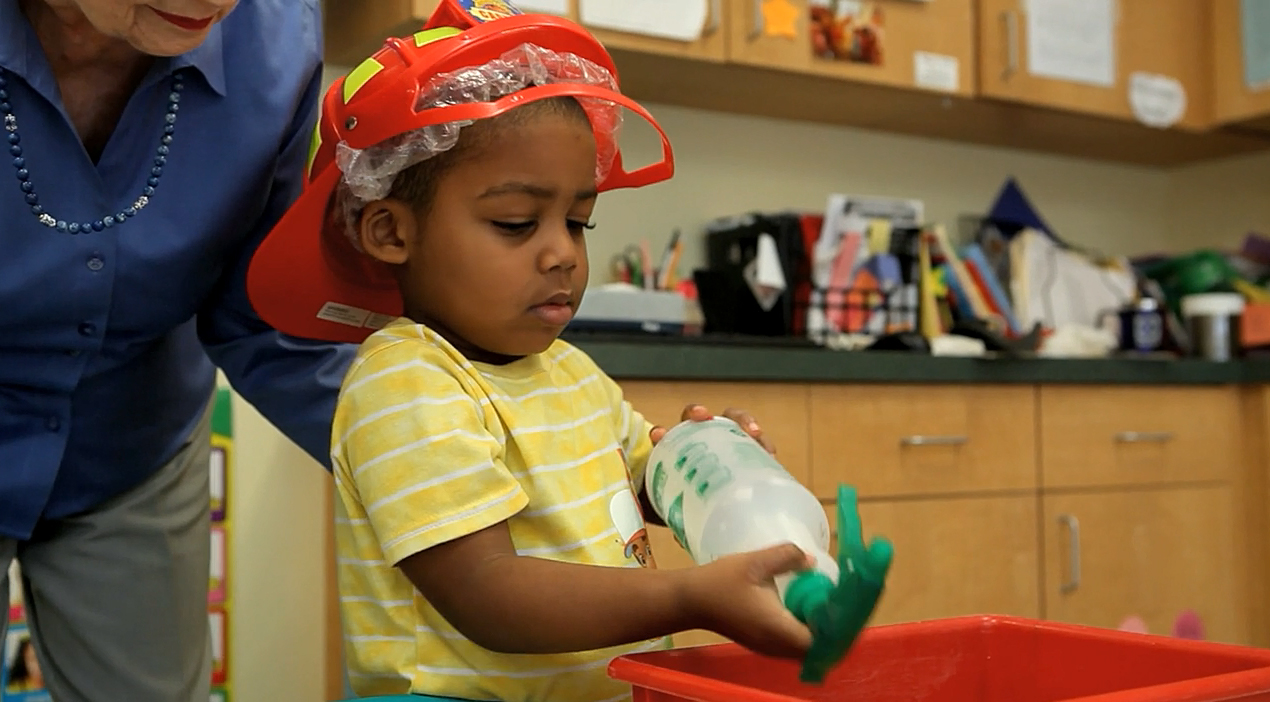 Licensed by the state of Virginia, Westminster Canterbury Child Development Center offers a preschool and before/after school program for children ages 6 weeks to 12 years old. Positive experiences help children develop critical thinking skills and an enthusiasm for learning. Classrooms divide into learning centers for developmental activities.
Kathleen's Through the center entrance of the 1st floor you'll find Kathleen's Lounge for casual fare. Our inviting cocktail lounge looks out on the landscaped courtyard and year-round all-weather putting green. It's an ideal gathering spot before and after theater performances – or to meet friends for a drink at lunch or dinner time. Non-resident visitors may pay their own tab by credit card.
The Canterbury Room Located in The Center for Creative Living at the heart of our community is the popular Canterbury Room. It offers seated or carryout service for lunch and dinner six days a week, as well as Sunday brunch. And it's located next to our popular cocktail lounge, Kathleen's.
Tall windows flood our one-, two- and three-bedroom Courtyard residences with natural light. Each of the ten versatile floor plans – most with den or sunroom, all with balcony or patio – features nine-foot ceilings and can be decorated to personal tastes.
Featuring:
Full bath with tile floor for each bedroom
Wood foyer floor
Crown moulding
Blinds on all windows and patio doors
Tray ceilings in top-floor apartments
Storage space nearby on same floor
All amenities an indoor walk away
Parking garage
Relaxing front porches. Sunny backyard patios. Nine-foot ceilings. Large master bedrooms. Two-car garages. Our Homes on the Green have everything you like in a spacious floor plan – some with sunrooms or dens, others with finished second floors, adding two more bedrooms.
Featuring:
Ceramic tile floors in all baths
Wood foyer, dining and living room floors
Crown moulding
Blinds on all windows and patio doors
Gas fireplace
Second floor storage space (when not finished)
Laundry room with washer and dryer
In the Sara Belle November Theater, you can enjoy Broadway musicals, classical and choral concerts, comedy, drama and fascinating guest speakers. Visit the H. Scott November Gallery to see regular exhibitions of paintings, photography, sculpture and craftsmanship by renowned artists. For weaving, painting, sculpting, ceramics, jewelry-making and a host of inspiring classes come to the McGue-Millhiser Arts Studio. To make cabinets and conversation, sandalwood boxes or just sawdust, find all the tools and guidance you need at the Woodworking Shop.
Red brick exteriors, private yards with brick terraces or wood decks, and attached two-car garages characterize The Glebe Homes, our most spacious two-, three- and four-bedroom residences. Sunrooms, country kitchens, and gas fireplaces are just some of the many upgrades. Featuring:
Breakfast room
Two or three full baths
Laundry room with washer and dryer
Wood flooring and nine-foot ceilings
Large, walk-in storage off garage